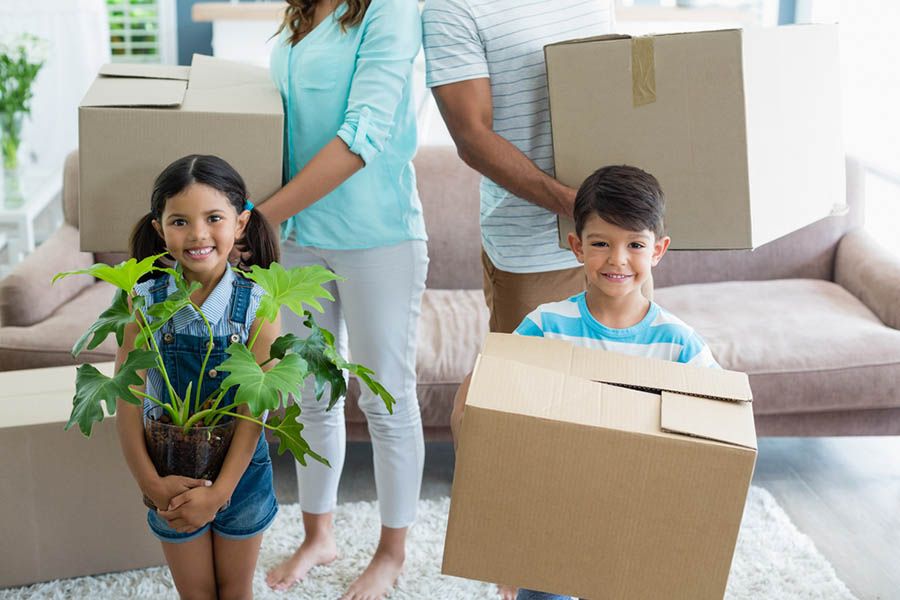 How to Prepare Kids for a Big Move
Moving can be a challenging and stressful experience that can only intensify if kids are involved. Most parents would agree that any disruption in their child's familiar surroundings, such as relocating to a new home or town, can get difficult for the whole family.
Fortunately, there are a few things you can do to help during this transition to lessen anxieties and put your children at ease. To help make the transition to your new home as seamless as possible, we have gathered moving tips you can follow before, during, and after the move.
Before the Move
Do NOT procrastinate on your move! Make sure that you have everything prepared and ready to go for Moving Day. You cannot have a seamless moving experience if you do not prepare.
6 Tips on How to Move With Kids:
Communicate with your children– Do not wait until the day of the move to break the news. Make sure that you sit down with your children and talk to them about the move before it happens. Put your children at ease by talking about moving experiences you've had and answer their questions and concerns in a positive way. This will help relieve some of the fears and anxiety your child may be feeling about the move.
Keep your Cool– Keep in mind that children often pick up on their parent's emotions whether they are good or bad. Make sure that you stay calm and positive through the moving process. If you feel stressed or anxious, take a break or talk to another trusted adult to work through your own fears and/or anxieties. During a move, children may already feel vulnerable and they will need your guidance and support so keep your cool!
School Records-Before the move, contact your child's school and request to have their school records transferred to their new school.
Make packing fun– Get your child their own boxes they can play with and allow them to help you pack up their rooms. Of course, you'll have to show them how to pack correctly. Read "Making your Household Move Easier" for packing tips you can share with your family.
Research your Neighborhood- Encourage your children to research their new neighborhood. Explore local parks, attractions, sports teams, and clubs. This will give your children new experiences to look forward to and will help immerse your family in the new town once you make the big move.
Hire Professional Movers- If you can afford it, moving with professional movers reduces the stress of moving so you can actually enjoy your relocation. When you hire a moving company, you ask an expert company to plan, design, and execute your move so that you have nothing to worry about and can focus your time and energy on your family instead.
Moving Day
If you want to survive moving day with kids, you will need to pack an essentials bag for Moving Day and for the first night in your new home. Make sure you set this bag aside and it does not get lost with all the other moving boxes.
Here are a few suggestions on items to pack:
Medications and a first-aid kit
Clothing and pajamas
Diapers and wipes
Pack n Play or Bouncy seat to contain them for short periods of time
Their favorite toys and books to keep them entertained
Breast pump and breast-feeding pillow and/or Formula
Extra bags for dirty diapers and messy clothes
Snacks, sippy cups, and bottles
Bath items
Blankets and Pillows
Extra pacifiers
Ipad with games or movies
Stroller and carrier
Car seat
As soon as you arrive in your new home, help create a familiar space in your child's new bedroom by placing their favorite items throughout their room.
Items can include their favorite:
Toys
Stuffed animals
Books
And blankets
This will help them feel more at home and put them at ease.
After the Move
Settling in and getting comfortable will take some time but your family doesn't have to feel "out of place."
Here are some ideas to help your kids settle into their new environment:
Fun Tour around the house– Introduce your children to their new home by taking them on a tour around the house. Allow them to explore on their own, and make sure to point out unique and fun areas throughout the house, such as hidden doors, great backyard trees for climbing, and more.
Paint-If your children are old enough, allow them to pick a paint color for their new room. If it's possible, let them help you paint it too!
Know your neighbors-Get to know your new neighbors. Find out if they have children around the same age as yours. Once your child finds new playmates, they will start feeling more at home.
Reach Out to Our Northern California Moving Company Today
Pete's Moving Services LLC consists of highly skilled movers that have been carefully selected to be part of our team. As professional movers, we recognize that it is our job to make your moving experience as stress-free as possible. Our team is committed to delivering an efficient and safe move for all our customers.
Why Choose Pete's Moving Services LLC:
Fully licensed and certified movers
Flexible scheduling 
100% satisfaction guaranteed
Personalized services based on your specific needs
Safe and reliable services for local and long-distance moves
As a result, Pete's Moving Services LLC has gained an excellent reputation for being among the most reliable moving companies in Modesto the Stanislaus County area. Check out our reviews to see what our customers have to say about working with us!
Planning on moving with children? Make life a little easier with Pete's Moving Services LLC. Send us a message online or call today to schedule a service!