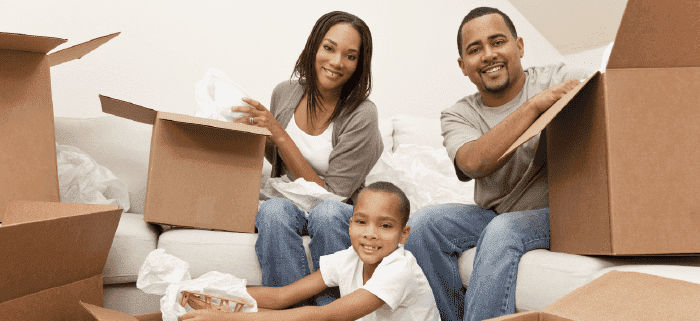 Most people can use some moving tips when they're packing up their belongings for a move. If you have moved in the past, or personally know someone that has moved before, you may have vivid memories of some of the ups and downs that come with moving. Some of these experiences may be thrilling and exciting, while others not so great and perhaps frustrating.
Drawing from many years of moving experience, I have many moving tips that can help make your household move easier, more organized, and less stressful. Whether you're moving across the country or moving across the street, below are some of the tips that can help make your move easier.
1. Make a List
Getting organized is key for having a successful and smooth move, and what better way to get organized than making a list! Before you pack anything, create a simple record keeping system.
A great way to keep track of your belongings is to create a computer-printed list of numbers with a space to write the contents. You can then place a number on EVERY box you pack and list the contents on your list. When describing box contents, be specific. For example "winter Jackets" is better than "clothes", and "A-D files" is better than "office files."
If you don't have access to a computer or a printer, a spiral notebook can also do the trick!
Remember to keep your list with you at all times along with important documents such as birth certificates and passports to avoid loss or damage during your move.
2. Buy Packing Supplies
Don't underestimate the difference packing supplies can make for your move, especially boxes! Having plenty of boxes will make your life a lot easier, and you will probably need more boxes than you think. If you are wondering how many boxes you will need and the cost of purchasing boxes, check out How Much Do Moving Boxes Cost, an article, on ForRent.com where you can also find the best apartments in your area!
When buying boxes, make sure you purchase boxes from a vendor or moving company (such as us) that will give you a refund for unused boxes.
If you get your boxes free from a grocery store, you can just recycle any leftover boxes.
Moving Day Tips:
For moving day, set aside at least 10 boxes for any last minute items that need to be packed on moving day, such as cleaning supplies or clothing.
Remember, you'll need strong packing tape to close the boxes securely.
Use unprinted newsprint (newspaper can stain your goods) or packing paper to wrap any household goods and bubble wrap to cushion your items.
Where I can get these items? Pete's Moving Services will gladly provide you with all of these materials for your move and will provide a refund for any unused packing materials you return. Other options include: The Home Depot, Office Depot, Harbor Freight, and U-Haul.
Again, you'll need more supplies than you think, so get extra. This will help ensure your belongings are packed away safely and your move is smooth. After the truck is packed, you can return any unused supplies for a refund if purchased through us.
3. Utilize Wardrobe Boxes
These tall boxes are great for bulky and lightweight items such as comforters, blankets, and pillows, as well as clothes that need to remain hanging. Give us a call, to ask the width of the wardrobe boxes we will be bringing. Then you can measure the clothes in your closet to see how many wardrobe boxes you will need. Another great way to use wardrobe boxes is for shoe boxes and other bulky items such as: stuffed animals, large baskets, purses, or gift wrap tubes.
Remember to only use wardrobe boxes for light and bulky items! Otherwise, the box may become too heavy to lift or the bottom of the box may give up on you when you lift.
Color Coordinate
Designate a color for each room in your new home, such as red for the kitchen, or blue for the living room, etc.
Apply colored stickers on each box near the box number (see make a list tip). In your new home, place a matching sticker on the door to each room or in a visible area so that movers will know where to put everything when they arrive at the unloading location.
It is also helpful to post a big sign in each room where you want boxes stacked (e.g "Boxes here") to keep them out of furniture and traffic areas.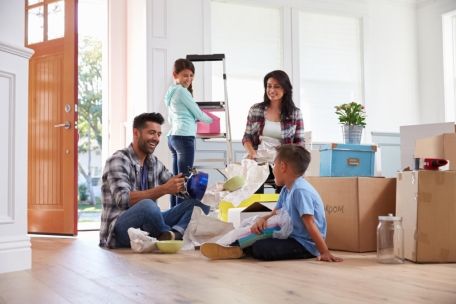 4. Keep Similar Items Together
Keeping things together when you pack can make a huge difference.
While packing, it's best to keep things such as light bulbs with lamps, extension cords with appliances, and bookends with books.
You can keep small, loose parts by placing them in Ziploc bags and taping them to the item they belong to.
It is also helpful to have a "Parts Box" open in the kitchen counter to fill it with cords, cables, nails, and other loose parts from any items of furniture or appliances. Mark this box using colored stickers or tape so it can be easily found on moving day and keep it with you at all times for those last minute disassembly needs.
Oh and while you're at it, don't forget to keep all the remote controls together for your T.V. I find that a shoe box is the perfect size for this, just make sure to mark the box using bright colored stickers or tape so you can locate it once you are ready to settle in and watch your favorite T.V show.
5. Pack Ahead Any Nonessential Items
Packing ahead will save you time on moving day. If it is winter, get your summer clothes packed and out of the way.
Box up extra shampoo, hair products, and cosmetics and live out of a travel cosmetic case for the last week or two.
Go through your kitchen and cooking utensils and pack any items you will not be using only keeping the essentials. You don't really need 20 pans out, do you?
Go through your pantry and pack up any non-perishable food items you want to donate to MoveForHunger (we'll take those) or that you simply aren't using for now.
Wastebaskets can also be packed and used to put things in them, while you switch to using plastic grocery bags to collect trash.
6. Consolidate Cleaning Supplies
If you have to clean your place before moving out, clean ahead!
Clean the rooms that you will not be using before your moving day.
Put together a cleaning kit with rags and cleaning supplies you will use during this transition and toss or pack away any cleaning supplies you will not be using ahead of time.
Use Your Luggage
Use the luggage you have to keep items that you might want to use as soon as you get to your new place such as toothbrush, towels, a change of clothes, pajamas, phone chargers, cosmetic bags and so on. If possible, have one for each family member.
7. Keep Important Legal Documents With You
Always keep important documents such as birth certificates, passports, closing papers, current bank statements, and medical records with you! Do NOT leave them with the mover, keep them with you.
A good idea is to keep them in your purse and in a Ziploc gallon size bag to avoid water damage and to keep all the items together.
Pete's Moving Services LLC Can Help You Move
Utilizing these tips will help make your move a little easier and the transition to your new home smooth. Investing in professional moving service can also be beneficial. Pete's Moving Services LLC not only helps prepare you for your move but also provides moving day assistance, whether it's local or long distance. Our expert movers can help you with packing, unpacking, loading and unloading all your items into your new home. To find out more or to schedule a moving service, give us a call today!
Moving can be expensive. Pete's Moving Services LLC understands this! That's why we offer coupons for our moving services. To learn more or to discuss your options, contact our team.