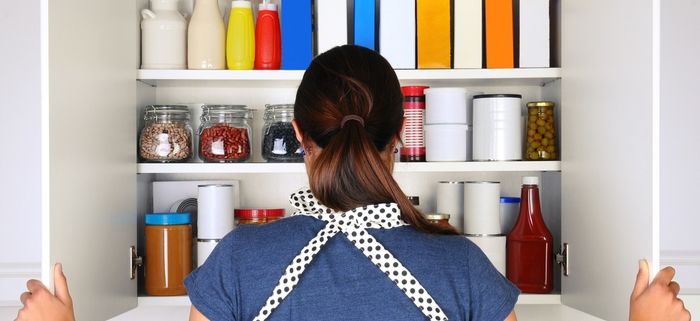 When it comes to moving, many of us spend most of our time planning to move our most cherished belongings such as furniture, clothing, and home décor-and who can blame you?! Many of these items may have sentimental value and may be irreplaceable, but let's not forget about FOOD. Moving, packing, and storing food before your move is just as important and can help diminish food waste and save you money along the way! Read our pro mover tips below for moving tips on packing and storing food during your move!
1. Sorting Food Before Your Move (Toss, Keep, or Donate)
About 1 month before you move, spend some time going through the inventory of food in your kitchen.
Start by throwing out old or expired food in the pantry, refrigerator, and freezer.
Only keep food items that you plan on eating during the next month or that are worth the time and money to pack and move.
When it comes to packing food, you want to take into account the cost to move the food versus the cost of the food itself, especially if you don't have much space in your moving truck. If space is limited, or you don't want to bother moving some of your non-perishable food items, you may want to consider donating it to a local food bank or an organization such as Move For Hunger which Pete's Moving Services is partnered with. All you need to do is drop off your non-perishable food items at our office and we'll donate the items to our Local Food Bank (Second Harvest Food Bank of San Joaquin and Stanislaus Counties).
2. Plan Your Meals
Once you're done sorting, planning your meals for the next month will help diminish food waste. This is the perfect time to clean out your freezer and finish off frozen food items you don't want to move such as frozen fruits and frozen precooked meals. This is also the perfect time to plan meals using your canned goods and pantry items you do not plan to donate. If you have more food than you could ever eat in one month, consider throwing yourself a going away party and feed your friends and family! If you're like me, and can't think of creative ways to use your food items, Pinterest is always a great resource for all kinds of recipes.
3. Make a Shorter Grocery Shopping List
You may want to change up your grocery shopping routine the last month before you move, especially if you tend to buy more food than you need.
Before grocery shopping, it helps to do a quick inventory of what you already have at home and then create a grocery list of items you need.
Be mindful of what you purchase and what you are going to eat, the last thing you want to do is throw away food that you spend your hard earned money on.
4. Pack Any Non Perishable Food
Unopened pre-packaged food items, canned soups, and dry goods such as seasonings and spices are all good candidates for packing and moving.
While packing, make sure you use appropriate packing materials such as packing paper or bubble wrap for glass containers (e.g. spices in small glass containers) so that your items are moved safely.
How to Pack Canned Goods & Pantry Items for Moving
Don't bother with any filler or packing material for the box
Make sure there are no large gaps between items
Pack large cans and heavy items (like rice) at the bottom
Pack small cans and light items like pasta at the top of the box
Make sure to use a small or medium box for canned food or pantry items
Make sure you can comfortably lift the box once packed—too many cans will make it a liability for your back
For long-distance moves, throw away anything that will expire in six months or sooner
Keep in mind that moving canned goods takes up space and money, so consider leaving some items behind—especially if there are cheap canned goods you've had for a few months and likely won't touch for a while.
5. Throw Away Any Perishables and Frozen Foods
On moving day, be sure to toss any leftover perishable food items and frozen goods that you did not eat. Not unless you are moving a short distance, these items should not be packed and moved. Keep in mind that if you are moving across state lines, most states have very strict guidelines to what can be transported over state lines. For example, most fresh fruits and vegetables will be seized in the state of California.
6. Make Moving Day Snacks and Lunch
A day before your move, you can scan your fridge for any leftover perishable items that can be used on moving day.
A great idea is to use any leftover bread for peanut butter and jelly sandwiches or use that extra deli meat and cheese for delicious wraps.
You can also boil leftover eggs for a quick protein packed snack
Just make sure you keep all perishable food items in a small cooler to avoid foodborne illness.
Once you've gone through your food and pantry items, you'll begin the packing process. Why not hire a professional team to speed up the process? Pete's Moving Services LLC offers a wide range of services to assist with your move, whether it is local, long distance, or full-service. Give us a call today to find out more about our available moving services!
The costs involved in a move can add up. Pete's Moving Services LLC understands this and wants to help. We offer coupons to our valued customers to assist with their move. To find out more reach out to our office today!